Ready or not, the winter season is on its merry way! Between the coziness of the holidays and the need to avoid the freezing cold, it's easy to get derailed on your fitness goals. Sure, the gym is always an option. But for some fitness fanatics, like John Bohonyi, outdoor exercise routines are a must.
Even though your morning jogs will have to wait until spring, you can still get out there and exercise this winter season. But you'll have to rework your work out a little bit!  Here are two winter activities that'll give you a full workout:
Calories burned per hour: 570 – 840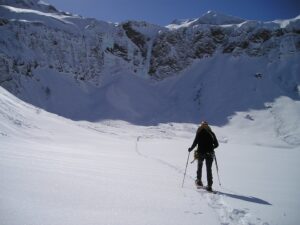 Snowshoeing — the winter adventurer's hiking.
Looking to kick up the hip flexor heat in the middle of snowfall?  Then snowshoeing is the adventure for you! If you're unfamiliar, snowshoeing is a lot like hiking — except instead of a winding, rocky surface, you're trekking through trails of snow.  Each step requires your body to walk against the resistance from piling snow. This works your hip flexors, iliacus and psoas muscles.
Calories burned per hour: 800 – 1,200
Fun for the whole family!
In between leisurely glides across the neighborhood pond and Olympic level figure skating, there's a pretty great ice skating workout.  If you concentrate on your posture while skating, you'll work out your core, obliques and the muscles in your lower back. Of course, ice skating is also an insanely great workout for your legs!  The power in your glides comes from your glutes. You also work on your adductors and abductors with each movement of your legs.
Stay tuned for more winter workout routines from John Bohonyi.  Follow his Twitter so you won't miss an update!