Are you missing the gym? If so, John Bohonyi recommends that you give streaming a shot! Here are some of the best resources for studio-style workouts you can watch (and try!) from home: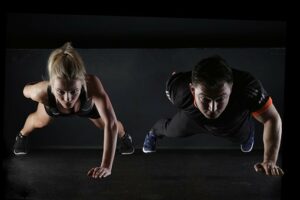 Apple Fitness Plus / AirPlay
Apple's Fitness Plus app works on iPhone, iPad and AppleTV, so you can take your workouts home — or on the go.  Now you can also implement AirPlay to stream your Fitness Plus workouts on compatible TVs and devices.  This is a great way to bring your workouts wherever you go… even if you won't be going anywhere.
Fitness & Health Twitch Streamers
Watching live fitness and health streams on Twitch is full of benefits.  If you crave the community of gym life, watching fitness streamers just might satisfy what you're missing!  By watching workouts on Twitch, you can also interact with other fitness enthusiasts.  Share your goals.  Ask questions.  Get involved by watching one of these super popular Twitch streamers:
MikeFIT403

FitForPurpose

thetribull