You definitely don't have to mow your lawn as much in the winter, but that doesn't mean you don't have to take care of it. There are some things you can do just before and during the winter that will help keep your lawn healthy and looking beautiful.
John Bohonyi owns and operates his own business, Bohonyi Landscaping, which offers a variety of landscaping and design services throughout his local area in Trenton. As a family owned and operated company, Bohonyi Landscaping takes pride in providing the highest quality services while demonstrating a positive impact for neighbors and the community. John shares his top tips for maintaining your lawn in the winter.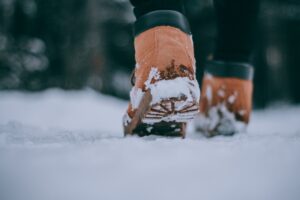 Aerating the soil is a great step to take as long as the ground isn't frozen. This will help improve drainage and bring up much needed nutrients from the soil.
Winter is a fantastic time to sharpen the blades of your lawnmower, give it a good cleaning, and make sure it is in working order before you need it in the summer.

 

Whenever possible, avoid putting shovelled snow on top of grass. Heavy amounts of snow can compact the soil and create bare spots on the lawn.
In the fall, try to give your grass a final cut before the winter weather sets in. Grass should be about one to two inches tall in the winter to ward off rodent infestations.
Make sure to rake your yard before the snow comes in because wet leaves can cause all sorts of problems such as fungal growth and water buildup.