Dirt biking is one of John Bohonyi's favorite pastimes. It's this time of year when the trails are full of blooming foliage and the ground is dry enough to get some real lift off on hills. Of course muddy trails make for a fun, slippery experience, but something about being one with the ground and the bike is something special.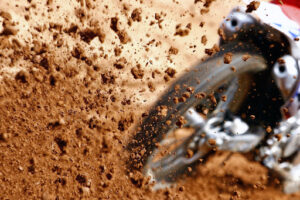 While the adrenaline rush of dirt biking is a key component as to why it's a fun activity, it's important to remember proper safety measures in order to prevent serious injuries. 
Always be sure to wear a helmet each and every time you get on your bike. It doesn't matter if you think it's uncool or lame, the truth is, over 60% of dirt biking deaths are caused by riders not wearing helmets. Hopefully you'll think twice about not wearing a helmet. Also, be sure to wear proper motosport attire, too. This includes covering your arms with long sleeves, legs with long pants, plus over the ankle boots and gloves, too.
Don't let one of your favorite hobbies become the biggest risk in your life. Stay safe and wear your safety gear. Now go get after your favorite trails!