As the cold winter weather begins to die down in the coming months and hints of spring begin to shine through, you might find yourself wanting to spend more time in the great outdoors. For people on the East Coast, this might mean finding some trails and hiking in your free time.
If you're new to the world of hiking, there are a few pointers you might want to know in advance to be able to prepare for the best experience possible. Outdoor enthusiast John Bohonyi shares his advice on how to prepare for your first hike of the year.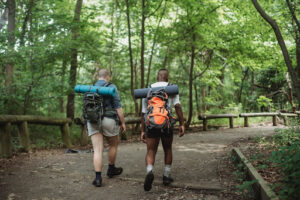 1. Check the Elevation
There's nothing worse than thinking you're taking a leisurely hike, and quickly finding yourself trekking up a steep incline you weren't anticipating. To avoid this, it is best to check your trail's elevation beforehand. If you're at a national park or forest, you can usually find trail information at a visitor's center, or through an app like AllTrails. 
2. Wear Supportive Shoes
Wearing supportive shoes will make all the difference in your hiking experience. This isn't to say that you need to go out and buy a new pair of hiking boots or top-notch climbing shoes, but wearing a supportive sneaker or boot that has some grip on the bottom will not only protect your toes and arches, but your ankles too. 
Some hikers prefer the sturdiness of a hiking boot that limits ankle mobility (which is great if you are prone to ankle injuries) and others prefer a flexible, low-top sneaker that is a bit more versatile and dexterous. Ultimately, the choice is yours- but make sure you're okay with getting your shoes a bit dirty along the way!
3. Stay Hydrated
You never know what might happen on your hike, so bringing a water bottle with you is crucial. Drinking water regularly throughout your hike will also help alleviate muscle cramping.
Remember not to drink running water in ponds, streams, rivers, or lakes you may come across unless there are signs stating otherwise. Certain times of the year are prone to bacteria build up that is harmful for humans to ingest, so please be weary and bring your own water to hydrate.
Aside from the above tips, be sure to follow your trail's sign posts and markers. If you ever feel unsure of where you're at, turn around and go back to a point you are familiar with. Remember to have fun and take a picture of your next summit!
For more articles on health and the outdoors, be sure to read John's blog.