Since childhood, John Bohonyi has been a huge fan of NFL team, the New York Giants.  The team has been a great source of inspiration and motivation for the fanatic.
When it comes to the New York Giants, fans are always entertained.  When the boys aren't giving their all out on the field, they're making fans double over with laughter over memes!  The latest addition to the NY Giants golden vault of memes is all thanks to none other than the team's rookie and veteran duo, Daniel Jones and Eli Manning.
It all started with this photo: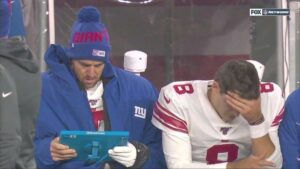 After losing to the New England Patriots, the New York Giants found themselves winning at… well, the internet!  The photo, which depicts Manning using a tablet and Jones tending to (presumably) a loss-induced headache, quickly found its way around the web.  Twitter users and football fans alike went straight to creating — or meme-making. When it comes to meme-making, there simply isn't a moment to waste!
The meme'd moment was quickly spread, and seen, around the world.  Fans flipped the script to turn the moment of disappointment into one of jokes and laughs!  Here are just a few of fan John Bohonyi's favorites from the moment turned meme spree: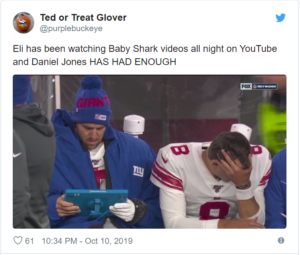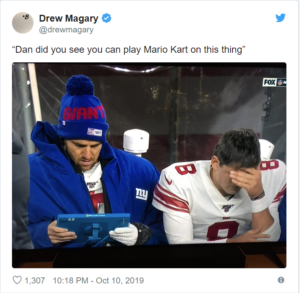 Leave it to New York Giants fans to turn a loss into something fun!  We can only hope that these lighthearted memes worked their magic in raising the boys' spirits!  John Bohonyi eagerly anticipates the rest of the NFL season. Upcoming games include Giants vs. Cardinals on 10/20 and Giants vs. Lions on 10/27.  Both games are sure to be exciting — whether or not memes surface as a result!